Smarter, stronger, more economical drum filters
Key advantages
Unique solids extraction with patented Hydrotech ALPHAFLEX™ panels combined with improved solids trough design
Enhanced solids trough design providing up to 50% larger collection area and integrated front splash protection
Communication between ALPHAFLEX™ panels and solids trough enables faster and more efficient collection of particles from the water
Improved hydraulic design minimizes undesirable pressure losses
Custom-made profiles enable manufacturing in special alloys such as Duplex and Super Duplex steel
New drive arrangement with less components means a simpler construction that eliminates corrosion problems, reduces maintenance and offers safer operation
Automatic lubrication of main bearing and support wheels for almost maintenance-free operation and greater efficiency
The ALPHAFLEX™ Filter Panel - Increasing drum filter capacity by up to 20%
The Hydrotech ALPHAFLEX™ panel is a breakthrough in designing filter panels. It increases the capacity of existing drum filters by up to 20% and saves up to 95% of the water in the solids trough picked up by traditional filter panels.
More filtration – less energy
The combination of having some panels lifting and some releasing saves energy and water. This is achieved by angling the horizontal walls, making it easy to determine how much water the ALPHAFLEX filter panel should lift into the solids trough. The panel can be oriented to lifting or dropping, depending on the type of application you are using.
By using angled walls the ALPHAFLEX filter panel quickly picks up undissolved particles that may be left inside the drum filter. This flexibility means it can be easily adapted to your current system needs.
Fast, easy assembly and replacement
The ALPHAFLEX filter panel is equipped with an integrated rubber gasket for fast, easy assembly and replacement, minimizing the risk of leakage between the drum and filter panel.
Backward compatible with most drum filters, and fitting existing Hydrotech type drum filter panels, ALPHAFLEX has a larger filtration area and absorbs more particles than other alternatives on the market, and a given retrofit opportunity for already installed filters.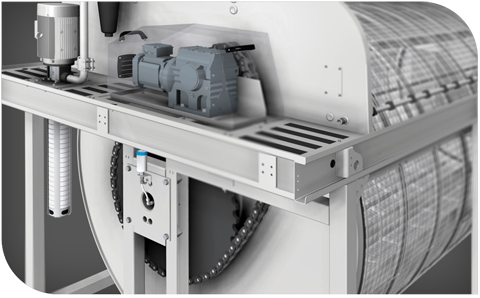 Drive
The remodeled drive system optimizes mechanical operating conditions and reduces chain force – increasing product life-time. The new, robust, lightweight plastic chain comes with a non-corrosive plastic chain drive, extending product lifetime.
Chemical spray bar
Improved chemical cleaning by using a new cleaning sequence to prevent water from being contaminated
by chemical cleaning agents. The new chemical spray bar is also manufactured in a Duplex steel pipe to avoid pipe extension due to temperature variation.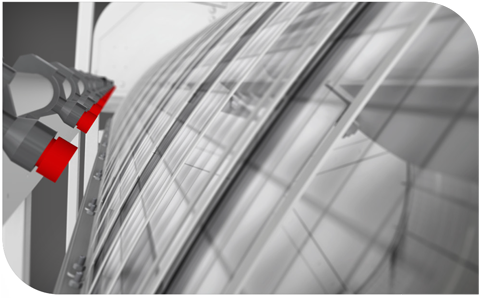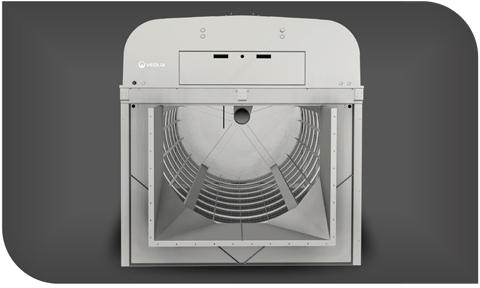 Influent connection
Filter unit prepared for either: open inlet, inlet channel or flexible docking inlet (more forgiving to concrete
deviations).
More improvements and benefits
Hydraulic improvements
To minimize undesirable pressure-loss inside the filter unit, the filter inlet is completely open without any hydraulically interfering objects providing a smooth optimized inlet flow.
Cover
Developed for better operator access and easier maintenance with large hinged hatches equipped with gas springs on both sides of the filter unit. The cover frame design provides unique protection of gas springs when the cover is closed.
High pressure cleaning system
Filter prepared for the improved high pressure cleaning system that ensures the filter cloth is clean, works with maximum capacity and reduces the need for chemical rinsing.
Solids trough
More efficient sludge collection catching particles faster and more efficiently with up to 50% larger collection area. The self-supported solids trough eliminates need for support struts placed in the filter inlet, providing more optimized hydraulic design and minimizing accumulation of sludge/particles.
Splash protection
Prepared for installing protective splash guards to prevent leakage and splashes for easier maintenance.
Filter panels with integrated gasket
Filter panel equipped with integrated gasket for easy, fast assembly and replacement.
Together with the stronger filter panel fastening strap it minimizes the risk of leakage between drum and filter panel and increases panel durability.
Self cleaning spray nozzles
Patented self-cleaning, corrosion resistant nozzles for more flexible installation and reduced maintenance.
Frame/Level tank
Innovative design for increased quality and durability, lower installation costs and higher hydraulic capacity.
The filter unit is engineered to eliminate dead zones to minimize risk of sludge accumulation.